Creation Process & Care Instructions
Thank you for your purchase of a Manita Studio Works stained glass piece. Each piece is handmade in Taos, NM, from design to final polish.
Design
The design process starts with an idea, of course. Sometimes it is a motif I have come across, or a phrase that inspires me. "Andale Pues - Let's Go" is a good example. I will sketch a few versions of the idea, then hand draw a pattern, while consuming copious amounts of coffee and Smarties. Once I make a prototype that I like, I will digitize the pattern, in order to change the size more easily.
Stained Glass Process
This is a simplified list of the stained glass process:
Idea, draw, erase, draw, pattern, chose glass, cut glass, grind, wash, dry, copper foil, burnish, flux, solder, attach hangers &/or frame, wash (really, really well), dry, patina, rinse, dry, wax, polish, attach hanging hardware &/or wood frame/base, photograph, list on website or tag for retail, wait………package & ship, repeat. There are usually a few other steps in there, depending on the piece. It is a simple process, but one that requires a lot of care in each step. It is time consuming, and it has to be in order for your piece to be well made.
Photography
Sometimes you get lucky, and Mother Nature provides the perfect backdrop for photographing stained glass. But most of the time it's a lot of crossed fingers and dozens of photos to try to capture the beauty of stained glass.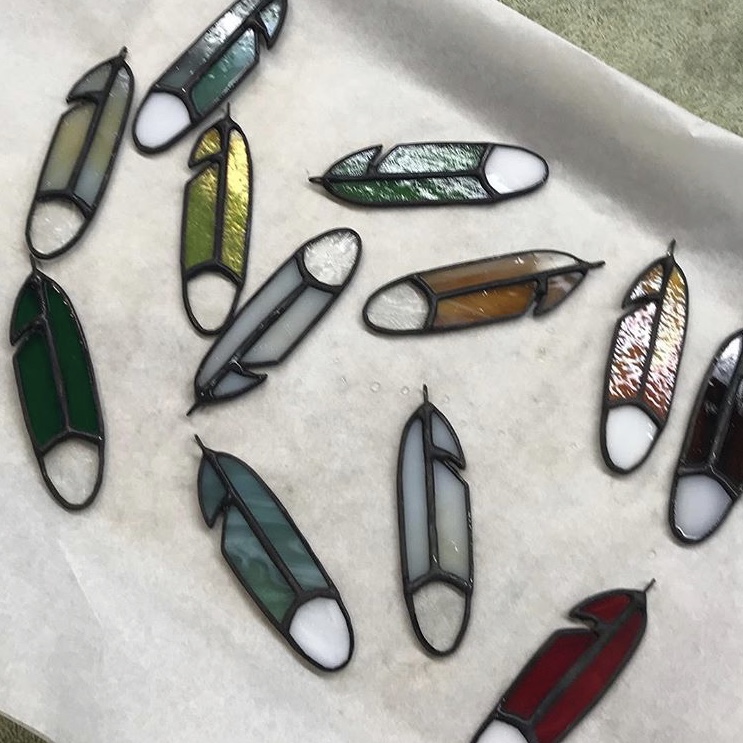 Your stained glass piece has been waxed and polished. Wipe clean with a soft cloth when needed.
DO NOT USE:
-Windex or other cleaners, they will damage the solder lines and finish.
-Suction cup hangers. 3M Brand Command Products or metal cup hooks are recommended to prevent breakage.
*Solder contains lead, it is always advised to wash hands after handling.